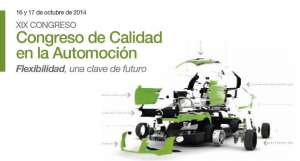 The nineteenth Automotive Quality Congress, organized by the Spanish Quality Association (AEC), took place in Vigo from October 17th to 18th at the Afundación Social Center.
Many companies from the national and international sector participated in this meeting, including Delta Vigo; various seminars related to the status of the sector and best practices were held.
The focus of this meeting was "Flexibility, a key for the future."
The primary topics addressed during the various conferences were "Flexibility commitment and change," «Logistical competitiveness," "Global risk management," "Evaluating suppliers' performance," "Lean Manufacturing" and "Lean Management," among others.