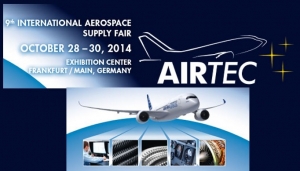 From October 28 to 30, the 9th Airtec fair will take place in the Frankfurt Exhibition Center (Germany), where the latest technological innovations for the companies of the aerospace industry will be presented.
For the second consecutive time, Delta Vigo will participate in Airtec, presenting its latest innovations for the aerospace sector.
The German Secretary of State for Economics, Brigitte Zypries, will inaugurate this year's fair, in which more than 300 companies of the aerospace industry will participate. Thirty countries will be represented, with many companies from the US, Europe and Asia.
In addition to product and service exhibitions and B2B meetings, Airtec will hold a world congress and various seminars about R&D, Supply Chain Management, and composites.